Buyers Guide
A General Guide to Buying Gates Online
While the primary purpose of a gate, fence, or railing is to enhance security, we believe it is critical that it is also visually appealing. Choosing the right style may increase the value of your property but doing it wrong might make your home appear less appealing.
As a result, we recommend that while selecting your favourite design, you consider some of the following information to help you make your selection.
---
Wrought Iron Style Gates
If you are seeking to buy a gate for your garden or driveway, we offer wide range of size and style possibilities to select from in our web store. With such a wide range of options and prices, we've outlined the key features to consider while making your product choices.
Product Specifications – What you Should Expect
As a basic guideline, the higher the specification, the more costly the gate. This simply means that a cheap gate purchased at £50 will be nothing like as robust and sturdy as one valued at £500.
Consequently, if you have specific requirements, please pay close attention to the steel specification in each product description and keep in mind that products with infill bars of 10mm or less will be primarily decorative, products with 12mm infill bars can offer moderate strength and stability, and any product with a specification above this will be one of the sturdier models we have for sale. We have some typical price examples detailed here.

Size Options
With many size options available online to suit most common opening widths you should be able to find something to suit your requirements in no time at all. If for any reason you don't find what you are looking for refer to our made to measure gates page.
Ordering Widths: The measurements indicated in the dropdown menu on every product page defines the SIZE OF THE OPENING INTO WHICH THE GATE WILL FIT. It's doesn't reflect the actual width of the gate, therefore do not confuse the two otherwise you will buy the incorrect size.
Example of Proper Ordering: The distance between piers, supports, or masonry, is 1067mm. This means you should order a gate that will fit an opening of 1067mm.
Example of Improper Ordering: The drop-down menu specifies a width of 2600mm, however your opening is 2690mm. In this instance, do not order because the two measurements do not match.

Paint Finish
Standard gates, fences, and railings are available in either a black primed (undercoat) or a zinc-plated and black powder coated paint finish. Each design's finish will be clearly specified in the product description.
Please keep in mind that items with a black primer (undercoat) must be finished with an acceptable exterior grade metal paint before installation. If the steel is not painted before installation, it will rust once exposed to the environment. This is not a flaw in the manufacturing process!
---
Common Gate Designs
We offer a variety of design options available in our product portfolio. Sliding gates are the only type we do not yet supply. In this section, we will explore at the many options available to customers.
Despite the fact the name implies that they are only seen in gardens, this form of gate is by far the most common of all the options available. Prices start at less than £100.00 inc VAT, making them exceptional value for money. While there is no hard and fast rule, we classify our garden gates as any size up to 4ft wide and 4ft tall meaning they are ideal for front paths, side passages, or any other location where a relatively modest security barrier is required.
---
These gates are suitable for guarding side entrances or locations where a greater level of protection is necessary. We have this gate type in many various designs, meaning that we have a choice to fit all preferences and finances. The most frequent heights are 6ft and above. When paired with a lock, they will create exceptional levels of security to sections of your property that demand the greatest protection.
---
Our huge selection of wrought iron style driveway gates is available many designs and are a fantastic solution when you need to safeguard a wide opening like the entryway to your drive or indeed any equivalent area. Driveway gates are available in a variety of common widths, spanning between 7ft to 16ft in diameter and are divided into 2 equal sections, which normally attach to brick pillars or metal posts.
---
A bi folding gate folds back on itself, giving just half the swinging radius of a pair of 50/50 split double gates. This is a wonderful alternative for customers who have little parking space or whose driveway slopes steeply towards their home.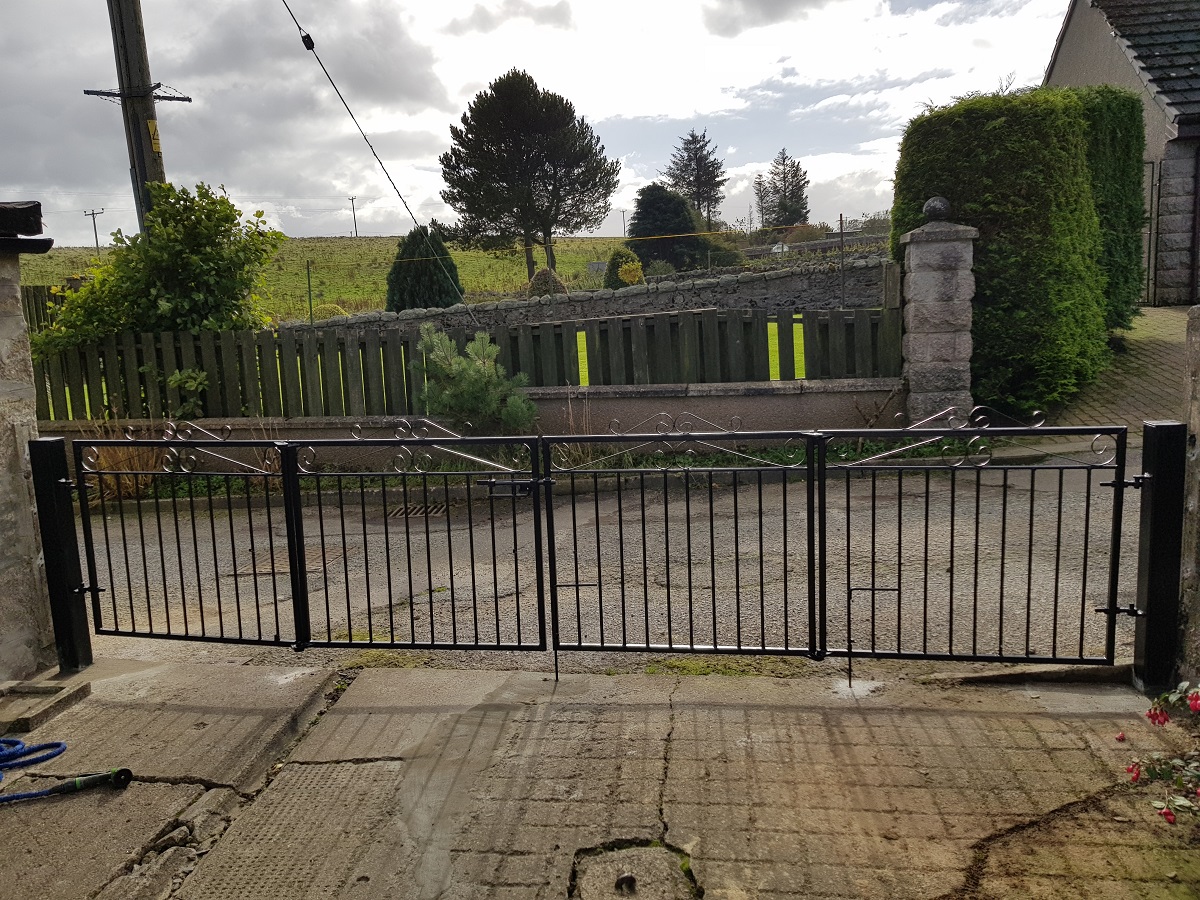 ---
Estate gates in the wrought iron style are frequently used to provide the maximum level of security to the driveway's entrance. They not only create an imposing security barrier, they also improve the overall aesthetic appeal of the main access point onto the property.