Signature Collection of Royale Gates
A Signature Collection of Gates Handcrafted in the Wrought Iron Style
Are you seeking robust wrought iron gates which secure your property and make an exquisite design statement? If so, we are proud to present the signature rage of Royale gates, fencing and railings, which will lend a regal touch to your property while remaining competitively priced.
The Royale range is handcrafted in the UK to industry-leading standards and incorporates historic design details from yesteryear to generate a luxurious collection of styles that will make a grand statement to any residential gateway.
Contact us now to discover more about this fantastic collection of gates. One of our expert advisors would be happy to walk you through the advantages.
Specifically intended to give strength, dependability, and durability, the Royale Talisman design has been inspired by historical features on many Scottish country estates. It symbolises the finest of classic wrought iron flair. The gates are handcrafted in the UK, utilising the finest quality steel components to produce a final product that is unmatched in terms of function, aesthetics and affordability.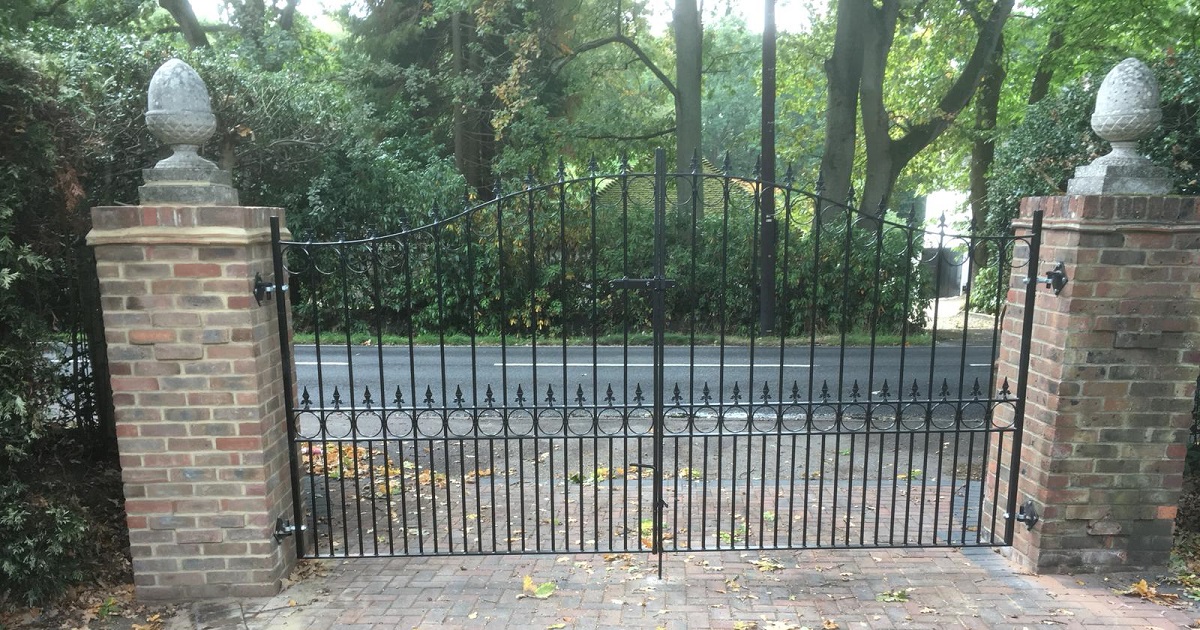 Design Options
Maximum weight - up to 250kg
Royale Monarch Collection
The Royale Monarch wrought iron type gate is the most elaborate of our designs and will give a stately elegance to any location. The Monarch is handcrafted in the UK by highly experienced professionals who delight in their work. It benefits from a robust and solid steel framework and infill bars, fantastic ornate scrolls, spear-shaped finials, and a spectacular crown detail as a final addition.
Design Options
4ft High Wrought Iron Garden Gate: Suited to various classic gardens, this graceful gate design symbolises the pinnacle of British craftsmanship.

6ft High Wrought Iron Side Gate - This design represents exceptional value. It has been designed to give seclusion and security while maintaining beauty.

4ft High Wrought Iron Driveway Gates - These are the ones to choose if you would like a strong aesthetic effect at the gateway to your property.

6ft High Wrought Iron Estate Gates – These high strength gates are a must-have asset to your residence. They will provide the optimum in aesthetic, practicality, and security.
Up to 320kg in weight
Royale Premier Collection
The Royale Premier gate is designed to convey a feeling of flair and refinement. It has a distinctive look that yells grandeur, elegance, and resilience. The Royale Premier range is hand-built in the UK and benefits from a distinctive archtop, fleur-de-lys finials, ornate scrolls, and a beautiful scroll pattern. They are manufactured from high-quality solid steel components to reach industry-leading strength levels.
Design Options
Royale Premier Garden Gate - With this elegant yet economical product, you can create a stunning approach to your home and garden.

Royale Premier Side Gate – Designed with security measures in place, this classic wrought iron gate style will provide an intimidating physical barrier at a cost - effective price.

Royale Premier Estate Gates - These gorgeous double gates will provide a spectacular impact to the front to your driveway.
Up to 216kg in weight
The Royale Ascot design, which draws inspiration from a range of places, balances confidence and assurance with a high level of strength. This elegant collection of gates are suitable for many styles of home and garden and are hand-built in the UK to guarantee the highest quality standards, thereby being great value for money. The gates benefit from robust steel construction and are further fortified with a double horizontal rail. They incorporate various historical wrought iron style components such as spiral infill bars, fleur-de-lys finials, and ornate cages for enhanced visual beauty.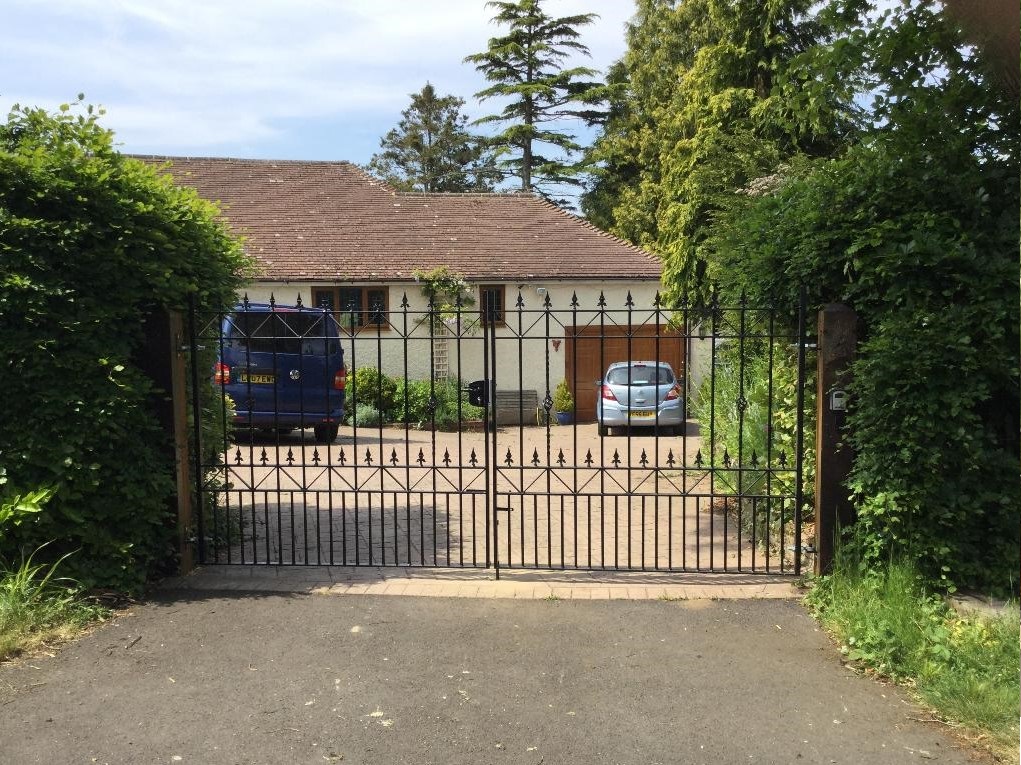 Design Options
Up to 248kg in weight
Royale Grange Collection
The Royale Grange design, constructed from heavy-duty steel, captures a wrought iron gate's intrinsic elegance and spirit while remaining affordable. They benefit from a quintessential archtop, fleur-de-lys finials, and elaborately scrolled sections. The Grange is intended to make a powerful impression within the driveway or garden entrance, delivering seclusion and protection as well as stunning beauty.
Design Options
Available for purchase now in various configurations, you can discover more about this fantastic range of wrought iron type gates by visiting the pages below. Don't hesitate to contact us today to discuss your requirements.
Side Gate: Designed to fit most domestic settings, this appealing gate incorporates security and aesthetic appeal.

Estate Gates: These exceptional value double wrought iron gates will redefine your property's entrance and create a grandiose point of focus for your driveway.
Up to 240kg in weight