Wrought iron is renowned for being incredibly strong, durable and rust-resistant. Although very little maintenance is required, it's important to keep an eye on any build-up of dirt or mud to avoid the risk of rust. It's best practice to clean your fence from time-to-time using a bucket of warm, soapy water and a soft brush or sponge. Once clean, be sure to wash away any residue soap with fresh warm water to prevent your fence from discolouring.
A fresh coat of paint is another good idea to keep your fencing looking its best, this will help reduce the chance of rust forming as well as enhancing the overall look of your fence. For optimal results, use a metal primer before painting. These can be found at your local DIY shop and are easily applied using a brush or roller, a good layer or two should be efficient to form as a base protection and further protect your iron fence from rust.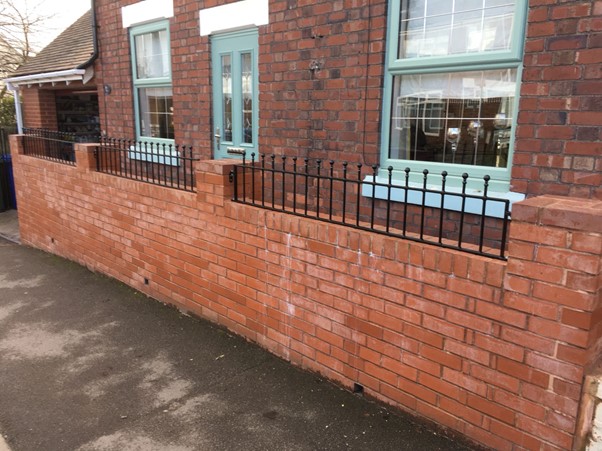 What to do if my iron fence is showing signs of rust
There are a number of reasons why your wrought iron fence is beginning to show signs of corrosion. Perhaps you live in an area of the country that is prone to rain and wind or maybe the gate is chipped and exposed the iron underneath, thus causing it to rust.
The most important thing you can do now is act quickly to prevent further damage from occurring. Start by using a wire brush to remove any loose rust, and use an abrasive cleaner to scrub off the remaining rust spots. Rinse thoroughly with clean, warm water and dry with a soft towel. Immediately apply a metal primer followed by several light coats of paint for maximum protection.
Don't forget the hinges and latches!
Remember to pay good attention to the locks, handles and latches attached to your gate to ensure they are taken care of too. Some homeowners like to use a protective oil or a quick spray of WD40 now and then to avoid the risk of rust forming. If changing the mechanisms to your gate is an option - opt for stainless steel, which are designed to prevent rust.
Here at Wrought Iron Gates, we have been supplying high-quality decorative gates, fencing and railings to homes across the country for over 20 years. Whether you are looking for a single side entrance gate for your property or an impressive double gate for your driveway, our selection of classic wrought iron gates are available in every design and style possible that won't break the bank.
Head over to our website to view our full range, or if you're unsure as to which gate or fence is best suited for your requirements - speak directly to a member of our team. We are on hand to provide you with expert advice and guidance, so please do not hesitate to call us on 0844 804 5577 or email sales@wroughtirongatesdirect.co.uk.